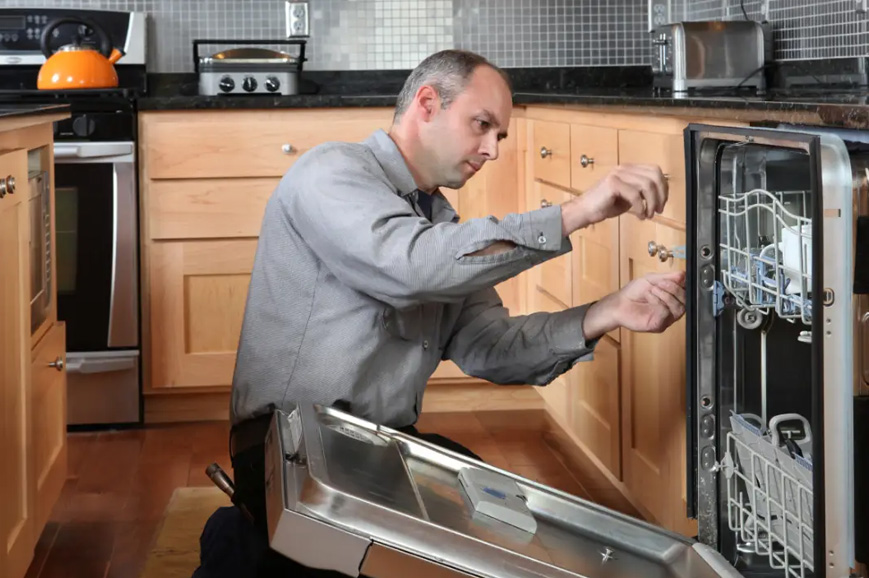 The Importance of a Appliance Home Warranty
Everything in life breaks down and wears out. All of the new gadgets, toys, and items that we buy come with a warranty to cover damages and replacements if the device or item breaks. We get warranties on everything from cars to phones to video games. But what about homes?
Most homeowners are surprised to learn about the importance of a home warranty. With its most basic definition, a home warranty is a policy that is paid for on a monthly or yearly basis that covers the cost of repairing large and expensive devices, appliances, and items in your home if they should breakdown and stop working.
A DiChristopher in the Tampa Bay area doesn't sell home warranties, but we do understand their importance, especially when it comes to high-end appliances like refrigerators, stoves, and washer/dryers. So let's take a closer look at the importance of a home warranty and how it might impact you.
According to Realtor.com, the importance of a home warranty is this: "Home warranties provide financial protection for homeowners who might be faced with unexpected problems with their appliances. Many people buy a home warranty right when they close on a home since such protections can provide some much-needed peace of mind that you won't get hit with unexpected expenses soon after moving in."
This is the biggest reason why the importance of a home warranty shouldn't be overlooked. It is needed to give new homeowners a chance to settle in. It allows them to adjust to their new home without having to worry about expensive repairs or appliance replacements right after moving in. A home warranty can also offer peace of mind down the road or after purchasing a new appliance like a washer and dryer or a new automatic garage door.
Importance of a Home Warranty
It is important to not confuse a home warranty with the also important homeowners insurance. The homeowner's insurance covers the entire home and the structure itself in the event of damage due to fire, flood, hurricane, earthquake or other natural disasters. The importance of a home warranty is that it is designed to cover repairs and replacements on the individual systems and appliances that are in the home that break down due to normal wear and tear and usage.
For example: should a tree fall on your home, the repairs will likely fall under your homeowner's insurance policy. Why a homeowners warranty is needed is if your washer and dryer die after 5 years of use. Or if your AC system quits working in the middle of summer, that will be covered under the home warranty policy.
The following examples illustrate the importance of a home warranty for local appliance repairs and what it generally covers:
Electrical systems like lights and electronic appliances and things like stereos
Plumbing systems and connected appliances like garbage disposals
Heating and cooling systems like the HVAC and AC units and portable units
Washer and dryer and the various hookups
Kitchen appliances including, oven, range, dishwasher, etc.
There are many systems and appliances that can fall under the areas covered by the warranty, so it is easy to see why the importance of a home warranty is something that homeowners should know about.  If you have specific questions about why a home warranty is needed, and if you should get one to cover your home's contents, give A DiChristopher a call. We'll be happy to help.
How Much Do You Think a Home Warranty Costs?
While home buyers typically have to be covered by a homeowners insurance policy in order to be approved for their mortgage, home warranties are a fully optional coverage that homeowners can decide to get or to pass on as they see fit. Unfortunately, this means that the importance of a home warranty might be overlooked until it's too late.
Basic coverage for a home warranty starts in the hundreds and can go up to $600 annually. It can be more for more comprehensive plans that cover bigger items or more items within the home. With that in mind, the importance of a homeowners warranty can certainly outweigh the yearly expense.
Budgeting and understanding what you need to be covered and why a home warranty is needed in your situation can help make the warranty affordable. A homeowner can also get additional coverage on a plan to cover individual specialty items such as a pool, a well, or a riding lawnmower.
Most insurance companies will offer home warranties at any time to someone who owns their own home. However, the best deals often come if they are being purchased at the same time as the home or when the set of appliances to be covered are being bought. The specific importance of a home warranty depends on each homeowner's particular needs. At the end of the first year, you usually have the option to renew your plan or bail.
Most people choose to hold the warranty for one year, then typically drop it. But, form big-ticket items, the importance of a home warranty can be greater. It might be worth keeping the warranty for a selected few items to help offset the cost of repairs. The importance of a home warranty is something many homeowners are not quite up to speed with, and that is why A DiChristopher feels all homeowners should know why a home warranty is needed.

What are the Benefits for Home Buyers and Sellers?
A home warranty makes the home buying process easier. It helps provide reassurance that the buyer can move in and start their new life without worrying about the added stress and expense of sudden repairs or expensive replacements. The importance of a home warranty can also be seen for home sellers. If they're not already covered by it when they sell their home, a warranty can cover appliances and home amenities during the listing period.
This makes the home more attractive to buyers, and can often help the seller get more money from the sale of their home in the end. The importance of a home warranty in this instance is that it offers a win-win situation for buyer and seller alike. It's seen as a great asset to have during the negotiations of a home or property transfer.
However, like most things in life, there are those who disagree about the importance of a home warranty and feel that home warranties are not really worth the cost. Typically, a warranty is not needed on newer homes since they tend to have new appliances that are still going to last a good number of years. But the older your home is, the greater the importance of a home warranty. Odds are that something will eventually go wrong with a big item like the AC, or the dishwasher or the oven range.
Many companies don't really make any distinction between newer and older homes. When it comes to what they charge to cover the items, the importance of a home warranty can make this a very cost-effective option if you are purchasing an older home.
Contact A DiChristopher at (813) 961-1188
A DiChristopher doesn't sell home warranties, but as a trusted appliance repair business in the Tampa Bay area since 1992, we do know a thing or two about the importance of home warranties. If you're unsure why a home warranty is needed for your home, we're a happy to help you understand what type of warranty will suit you best.
And when you're ready for home appliance repair, we're here for you. We've won the Angie's List Super Service Award every year since 2004! We look forward to hearing from you.
Contact us today to learn more!