Washer Repair | Dryer Repair In Tampa Fl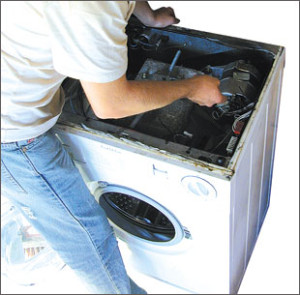 Any homeowner has experienced a problem with various household appliances. Refrigerators give out, dishwashers simply give up, and most of all, clothing washers and dryers happen to be the hardest working items you have in your house. This actually takes some of the burden off of you, allowing you to take care of family necessities, but it can be hard on the units. While these appliance repair problems can add an atrocious amount of strain on your bank account, you will find  A Dichristopher Appliance Repair is the one to call when troubles come.
A Dichristopher Appliance Repair of Tampa,Florida has an abundance of repair services which offer all- inclusive diagnostics, repair, and replacement services. A Dichristopher Appliance Repair in Tampa, FL is fully trained, licensed, and insured, with years of combined experience, and a team of technicians that know their stuff, inside and out. Guaranteed work, punctuality, and very reasonable prices set them apart from all other washer and dryer repair in Tampa FL.
Services offered regarding washer and dryer repair include troubleshooting, repair, and maintenance. A DiChristopher Appliance Repair is more than happy to build a solid relationship with you that will make the service you choose your go to repair facility.
Washing Machine Maintenance
As those of us know who live in a large house, co-habitating with many children and a spouse to boot, we have come to a firm acceptance of the fact that laundry will need to be done for the rest of our lives. The repairs provided by washer and dryer repair in Tampa Fl will not only wash your clothing the way it did before, but the expert technicians available to you will see to it they are running even better than before. Gone are the days of dingy colors and dull whites. A washer that is working properly will provide you and your family with fresh, clean clothes that will maintain the fresh scent you have used in conjuction with your laundry detergent and fabric softener.
If you are having problems with the wrinkle free feature of your drying unit, the repairman can get that functioning properly as well, restoring the method in which you prefer to do your laundry as you would like it to be. This is not to mention the money saved you would have had to spend on a new unit or set altogether .
Keep in mind that the age of either unit plays a vital part in how repairable the machine can be. If it is beyond the point that parts that are broken are not being manufactured, it is probably the best option to consider the purchase of another unit, either brand new, or a used one in quality working condition.
The last and best part of taking advantage of washer and dryer repair in Tampa Fl is the fact that the best of the best are in the area, and we will give you the best service, which results in the optimal end result. By consulting a professional in Tampa, Florida regarding the repairs your washer and dryer may need, you are going to lessen the amount of detergent and fabric softeners used, getting clothes much cleaner and softer that before the repairs or replacement.
Choose A Dichristopher Appliance For Dryer Repair
In conclusion, conduct thorough research into the best washer and dryer repairs in Tampa FL, and you will surely find that A Dichristopher Appliance Repair is the best, and you can build a long lasting, trustworthy relationship that you can depend on. You will have the precise services for any appliance you need at the exact time you need it, and you will be thrilled with the results. Check into appliance repair services, particularly washer and dryer repair, today. Go online and enjoy the reviews given for the various businesses ready to serve you and your repair needs today. You will be glad you did, and so will the friends you share the information with.