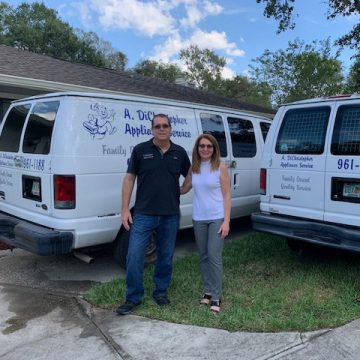 WE ARE
A DICHRISTOPHER APPLIANCE SERVICE

IN TAMPA!
A FAMILY-OWNED APPLIANCE REPAIR BUSINESS WITH A PERSONAL TOUCH
Don, who has 40 plus years of experience, and Alison DiChristopher have built a solid reputation since 1992 as one of Tampa's most trusted Appliance Repair Companies. They are an Angie' List Super Service Award Winner Since 2004!
They are committed to providing quality service to the community. They believe that a reputation as an honest and reliable business is the recipe for success. While others seek to profit by cutting corners or recommending unnecessary services to customers, Don and Alison believe that a good reputation and consistent service will reap bigger profits in the long run. By being trustworthy Don and Alison believe they will enjoy a long term profitable business that serves the community.
CUSTOMER SERVICE

AND SUPPORT IS OUR FORTE
We provide personal service and exceptional quality. All of our appliance repair services are 100% guaranteed. Competitive prices and overall value are why our loyal customers won't go anywhere else. Our technicians, Don and Anthony (father and son) look forward to helping you with all of your appliance repair needs. We repair most appliance brands. GE, Whirlpool, Kenmore, Maytag, Frigidaire and many more.
WHAT OUR
HAPPY CUSTOMERS

ARE SAYING

Scott Hooper
November 8, 2019 via Facebook
Our washing machine stopped working over the weekend. We were recommended to this company and I called them on Sunday. I could not believe how fast they called me and came out around 9am today. They found my issue and fixed it quickly. He took his time to show me the maintenance I needed to do with front loading washing machines. Extremely nice, professional, and fairly priced. I think they do all appliance repairs. I'm sure I'll see them again.

Sara White
April 14, 2020 via Google
After some careful research, I found Dichristopher Appliance Service was one of the highest rated companies for overall service with the least amount of complaints (most of which didn't even seem valid) in the Tampa area. I called Dichristopher Appliance Service to schedule an appointment for them to look at my dishwasher that was not operating properly. I called on a Saturday morning and was advised that the earliest appointment available was on Wednesday. As a family of four with two very small children, four or five days without a dishwasher is an eternity. When the gentleman sensed my disappointment he gave me a few gems of wisdom and explained a couple reasons why I may be having issues and provided some product recommendations. By Sunday we had fixed our dishwasher on our own without spending more than $10. I more than appreciate the kindness and free help provided by Dichristopher Appliance Service. It's often difficult to find honest, reliable companies without a recommendation. We will definitely use Dichristopher Appliance Service in the future and will recommend them to others. Thank you!

Argy B
July 3, 2020 via Yelp
'd give Don 10 stars if I could. My ice maker stopped working about 6 weeks ago, and between travel and being way too busy with work, I just bought bagged ice until I could schedule a repair. Getting around to this yesterday, I used Yelp to call several local appliance repair shops, with no success, as many no longer service LG refrigerators (longer story there, which Don shared all the details of for future reference). Nevertheless, Don asked some great questions, and one thing led to another, including referring me to other shops for the help I needed, but then suggested a reboot of the entire fridge, which I'd never heard of or thought about before. Unplugging the unit for about 15 minutes, then plugging back in. Voila! Within 12 hours the ice maker is making ice again, saving me a ton of hassle and costs for a repair that simply was not needed. Wow. By taking the time with me on the phone (15 minutes or so) and asking great questions, he saved the day for me. I know who I am calling for my next appliance repair - period. Thanks again, Don!

Kriss Marcacci- Bowles
January 9, 2020 via Facebook
Felt I got great and honest service for my Maytag stove. Very pleased with the professionalism and work ethic... Will defiantly use A DiChristopher's again.
Are You Looking for Expert Appliance Repair Services?
READ THE LATEST
NEWS AND ARTICLES
Your refrigerator and freezer are one of the most important appliances in your kitchen. Without it, you can't keep items […]
Spring cleaning is more than simply dusting off than furniture and wiping down the windows, especially for appliances in Florida. Cleaning your appliances inside and out will ensure that they not only look great but also work efficiently. Get ready for the spring season with these top ten tips to make your appliances shine.
Cold Drinking Water on a Hot Summer Day There's nothing more welcome and refreshing than a cold drink of water […]