Refrigerator Repair Services In Tampa Fl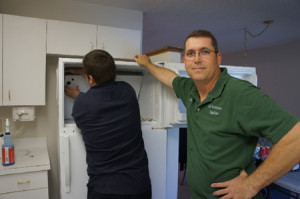 Looking for a refrigerator repair?….Science and technology has made our lives much easier and it is still making new changes and bringing new inventions to make our lives even more easier and stress free. One such invention is the refrigerator. This machine has helped us a lot in keeping our edibles fresh and healthy for days. To keep our drinks and food items fresh and healthy, the refrigerator must be kept in a good working condition. It is often hard to detect a not so well maintained refrigerator. The very first indication for a poor performing refrigerator is noticed when the food items are not getting a necessary temperature to remain fresh and healthy. If you detect this, then a refrigerator repair is imminent.
Schedule Fridge Repairman
Scheduling an appointment with an appliance repair company in Tampa as soon as possible is a must thing to do. It is not wise to throw out your food items, as they don't come in cheap prices. Call us as soon as you find that your food items are defrosting. It's advisable to transfer your food and drink items to a much cooler place like an ice box or another refrigerator or a freezer.
It is not recommended to do refrigerator repair on your own, unless you are an experienced appliance repairing person. Do not try to repair it just to save some cash as you may put it in a worse condition or even harm yourself.
Electrical standards must be met and considered first by an experienced, licensed appliance repair technician. Before you attempt to repair any appliance like a refrigerator yourself, please call A Dichristopher Appliance refrigerator repair. You'll be pleased to know that with the affordable appliance repairing cost by a qualified, fully licensed and insured appliance repair technician your refrigerator will be fixed, or purchase one o your own at an affordable price.
Refrigerator Preventative Maintenance
Taking preventative measures of your appliances, including your refrigerator and freezer, can help extend the life of your appliances. Just like your car or lawn mower, servicing your appliances on regular bases ensures that you will get longer, and often times, more efficient use of electricity that runs them. A refrigerator that is not maintained properly may consume more electricity as compared to a poor performing refrigerator. Broken refrigerator seals, bad thermostats and dirty vents can all cause your refrigerator to break down.
As a family owned and a well operated business, we understand how important it is to obtain good quality appliance repair services  at the most affordable price. We're Tampa Bay's favorite appliance repair resource! Join us on Facebook and see what others are saying about our refrigerator and appliance repair service.
Did You Know?….
You should not run frost-free refrigerators with freezer compartments in unheated areas with air temperature below 60 degrees F unless they are specially designed for this use. Air temperature that fall below 60 F will cause the compressor to run in a less effective manner. This will allow the temperature in the fridge compartment to maintain enough cold for fresh food but it will not allow the temperature to be cold enough in the freezer to keep food items fresh and healthy. At air temperatures below 40 F, the compressor stops running, so the freezer compartment rises to air temperature and the food defrosts and spoils when your refrigerator compressor stops running, which occurs when temperatures fall below 40F.
A DiChristopher Appliance Repair Tampa Bay
Call A Dichristopher's to schedule a service call for refrigerator repair service at your Tampa bay home or business. During our service call, we will be happy to inform you as to how to prolong the life of your refrigerator, freezer and other appliances. Costly repairs can often times be avoided. with regular maintenance. A Dichristopher Appliance Repair Tampa will fix most brands and models of refrigerators and freezers like, Whirlpool, General Electric, Kenmore, Amana, Maytag, Jenn-Air, Frigidaire, Sub Zero, Kitchen Aide, Magic Chef and Roper. If you need refrigerator repair service due to cooling problems, broken ice makers, leaks or other problems, call A DiChristopher  Appliance Repair service, Tampa Bay. We will make you refrigerator/freezer in a well running shape.