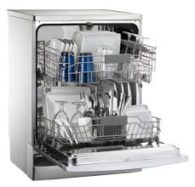 How The Dishwasher Evolved
As we move through the second decade of the 21st century, something like three-quarters of U.S. homes include at least one dishwasher. This is an impressive statistic, but when compared to how many householders own a refrigerator and a microwave it still lags behind this kitchen appliance duo's ninety-five-plus percent each.
Even so, dishwashers are a big part of American home life. So when did the modern dishwasher come about, and when did it enter the American consciousness and find its place as a major kitchen appliance? A DiChristopher takes a look at how our modern dishwasher came to be.